Are you having issues with your router's settings? Reading this tutorial will teach you how to reset a router easily. You can follow the steps mentioned in this page to reset any router or even gaming routers in the world.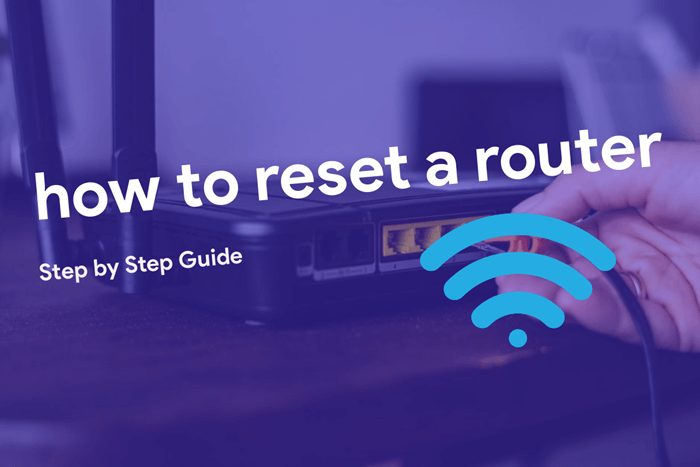 Despite the recent developments in the telecom field, there are tens of millions of people around the globe who still rely upon the best WiFi routers. People have to reset their router when they face a connectivity issue or they want to recover router password.
The resetting involves some risks and you shouldn't do it unless and until you have a clear idea of what it will result in. When you reset a router, you will lose all the data you have set.
How to Reset a Router
Do you have to be clear of why you want to learn how to reset a router? Is it because of the lack of internet connectivity? Did you forget the wireless password? Or do you just want to troubleshoot your router?
If it's the lack of internet connectivity that taunts you, a simple rebooting will do the trick. Or you probably just fix settings on your router's admin page.
If that is the case, you may want to use your router's IP address to do this. Try any of these local IP address to access your router's WEB UI:
Power Cycle Your Router
Power cycling isn't a complicated process. In fact, it is the easiest way on how to reset a router. When your power cycles the router, you just have to cut the power supply and re-plug it.
Most of the routers come with a power switch today. Just press once to turn it off and once again to turn the router off.
In case your router works on battery power, you will have to remove it and insert it back again. Another method is removing the power cord and plugging it back.
You can do any of the three methods on how to reset a router mentioned above. Undergoing power cycling doesn't erase any of your details including the passwords or private keys.
Soft Reset Your Router
In soft resetting, you will use the interface of the router to revert some settings. Once you do this, you will lose the wireless encryption (password), SSID name, and the channel number.
You must bear in mind that not all the router brands support soft resetting. For example, TP-Link routers have that but not every Verizon router.
In order to find the correct option, you have to log in to your router console or interface (most probably 192.168.1.1). Look under headings like Advanced, Security, System, Management, Maintenance, Administration, etc. You will find an option like Restore Defaults or Restore Factory Settings or Reset Security. Click Apply and you will have your router up and running in a few seconds.
Hard Reset Any Router
Not all the time power cycling or soft resetting the router works. If that's with your case, you will have to hard reset it. Hard resetting is actually a lot simpler than soft.
For a more specific guide, we recommend you to check out these comprehensive ways to reset your router:
Step 1: Pick up the router after disconnecting the power or removing it from the broadband modem. Then turn it upside down and look at the area where all the buttons are located.
Step 2: You will see a button named Reset or RST. Press and hold it for 30 seconds. In any case that doesn't work, you may hold the button for 90 seconds. For some CenturyLink routers, it only takes 10 seconds.
Step 3: Wait for it to fully reboot.

There you go! That's how to reset a router. It will be restarted to factory settings. You will lose all the data you already set on it. That means you need to enter them manually again.
Note: For some routers, there is a reset button at the back of the devices depending on the type of router, models or version you use. You an easily restore factory defaults by doing hitting the factory reset / router reset. You can also restore the default password and username of your wireless router. The router admin password can be restored by making changes in the default factory settings. You will require good internet speed and internet connection while doing so. You can also change the current settings. You can also learn how to router reboot from your router user guide and the version of router you are using. Access to the router control panel to change the default user names and default login credentials. And even to fix internet connectivity issues.
In Conclusion
It's easy to reset your router and change the router admin password. I hope that this post has helped you understand how to reset your router to factory defaults or fresh settings, as well as how to change the router's password. Refer to the user manual for your router for further information. There is a List of router models in different router stores that you can choose from.
If you only face the no-connection issue, I recommend the first two methods. It will solve almost all such problems. Don't forget to note down the default credentials (you can see it on the package of the router) before you attempt to hard-resetting.
Queries about battery-powered routers, configuration web interface, router reset methods, Router to Factory Settings, internet service provider, network issues, traffic between networks, networked devices, modem model, factory configuration, wireless network settings, equipment configurations can be accessed through the comment section below.
You can check our site for more articles about routers. There are more links to instructions about your wireless network and other bunch of routers. Hope this article was of convenience to users