If you are planning to reset Verizon router make sure you are doing it right. If you don't, this article will guide you through the step-by-step process.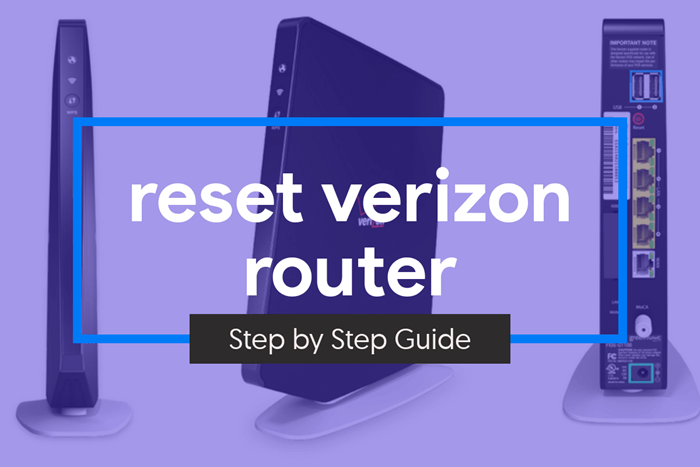 Are you having issues with your Wi-Fi network connection? If you think that the problem relates to your Verizon router then we can help you with that.
We will teach you how to comprehensively reset Verizon router in just a few simple steps. A router's configuration can be usually fixed when you access the IP address like 192.168.1.1, or 192.168.10.1, or 192.168.0.1, or 192.168.254.254, or 10.0.0.1.
It normally happens no matter what router you use. Some malfunctions occur due to continuous use.
Routers are not perfect. They encounter problems for so many reasons. These reasons can be overheating, software bugs, or the faulty setup. And such reasons can be fixed when you reset the router to its default setup.
Now if one of those issues is the culprit for your Wi-Fi problem then you are in the right article. Let's start.
Resetting Verizon Router – Step By Step
Before we start to reset Verizon router, please keep in mind that once the reset is done all your saved information in the router will disappear. That means you should not expect that only your Wi-Fi password will reset to its default.
Know that all your personal settings such as SSID, network encryption, and other security values will be gone. Your router will be back to the way it was when you bought it. Now that we have that clarified, let's begin with the step-by-step guide.
Step 1: To start to reset Verizon router, make sure it is turned on. Make sure all the lights are lit and so is the green LED.
Step 2: Look for the small pinhole at the back of the router. The one that says RESET. It usually in color red so make sure you are referring to the reset button and not something else. The reset tag is already a giveaway so try not to get it wrong.
Step 3: Get a paper clip or something pointy that can fit through the pinhole. Press it on the reset pinhole and hold it for 10 seconds.
Step 4: After 10 seconds, release the hold and let the Verizon router automatically reboot.
Step 5: Wait at least 20-30 seconds before you resume the setup.
Step 6: Now the reset is done. You may proceed to set up the router.
Step 7: To log in, use the default username and password of the router. If you do not know the default username and password, check for the sticker at the bottom of the router.
That's it. You can do this process when you want to reset the Verizon router again. Check out our simple tutorial on how to reset ASUS routers.
In Conclusion
Since you reset Verizon router to its factory default settings, you will find that all your wireless devices connected to the network are all disconnected now.
Only wired devices will remain connected to the internet. So if you have a device like a PC or laptop connected by LAN cord then you can resume the new configuration of the router from there.
If not, log in to the Verizon router network using the default values on the sticker mentioned. From there, you can do the new configuration.
Always customize your router from the default setup because the default settings can be easily hacked by current apps from Play Store and other places. Unless you do now want to be hacked, keep that in mind.